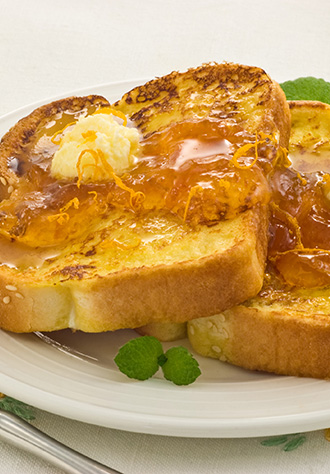 Almond-Stuffed Battered French Toast with Orange Glaze
What's cooking
When you make this incredible French toast, the sun won't be all that shines. Enjoy all those compliments from your family and guests.
French Toast Ingredients
2 slices bread (Pullman or egg bread suggested)
1 tablespoon toasted almonds
Filling Ingredients
1/2 cup almond paste
2 cups cream cheese
1/2 cup powdered sugar
1/4 cup Florida's Natural® Orange Juice
3 drops almond extract
Glaze Ingredients
2 cups sugar
1 cup cornstarch
5 cups Florida's Natural® Orange Juice
1/4 teaspoon almond extract
Batter Dip Ingredients
6 eggs
1/2 cup Florida's Natural® Orange Juice
2 tablespoons sugar
1/2 teaspoon almond extract
Instructions
Mix filling ingredients in a bowl until smooth. Mix sugar and cornstarch for glaze in a 2-quart pan, add orange juice and almond extract, and cook over medium heat until thick (stir regularly).
In a separate bowl, whisk eggs, orange juice, sugar, pinch of salt and almond extract. Dip bread in batter and cook on high (3 minutes each side).
Spread filling on a slice of toast and top with the other slice. Pour glaze over top.
Sprinkle with powdered sugar and toasted almonds. Garnish with a twist of orange.
Serves 6