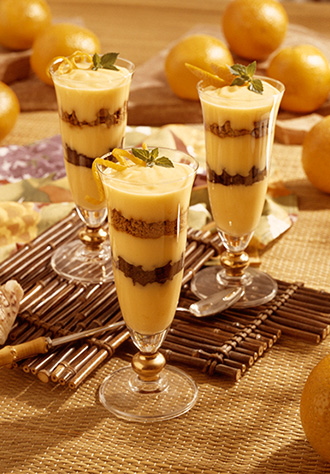 Easy Orange Parfaits
What we're mixing up
These parfaits are as pretty as they are easy to make. We suggest using a long spoon to eat them, so you can scoop up every tasty layer.
Ingredients
1 package vanilla pudding mix, 4-serving size
1 & 3/4 cups Florida's Natural® Orange Juice
One 8-ounce container vanilla or pineapple yogurt
3/4 cup coarsely crushed ginger snaps and/or chocolate wafer cookies
Orange peel (optional)
Fresh mint sprigs (optional)
Instructions
Prepare pudding mix according to package directions, but use the orange juice instead of milk. Transfer pudding to a bowl. Cover surface with plastic wrap and chill thoroughly. Before serving, fold yogurt into pudding. Divide one third of the pudding mixture among 6 glasses. Spread with half of the crushed cookies.
Repeat pudding and cookie layers. Top with remaining pudding mixture.
Garnish with orange peel or mint sprigs.
Serves 6