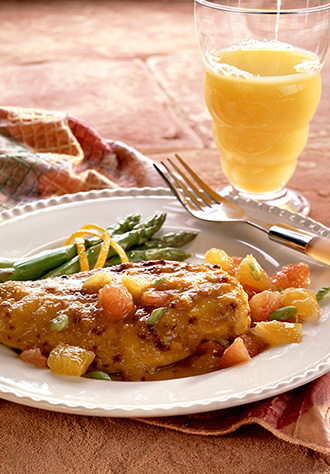 Orange Chicken with Citrus Salsa
What's cooking
Turn an ordinary chicken dinner into a fiesta. All you need are a few hours to marinate and a few friends to eat it all up. Salsa dancing optional.
Ingredients
6 medium skinless, boneless chicken breast halves (about 1 & 1/2 pounds total)
1 cup Florida's Natural® Orange Juice
1 small onion, cut up
1/2 to 3/4 teaspoon crushed red pepper
1/2 teaspoon ground allspice
1/2 teaspoon curry powder
1/4 teaspoon salt
1/8 teaspoon pepper
2 Ruby Red grapefruits
2 Valencia oranges
1/2 cup mango chutney, cut up
2 tablespoons bias-sliced scallion
Instructions
Rinse chicken; pat dry. In a food processor or blender, combine orange juice, onion, red pepper, allspice, curry powder, salt and pepper. Cover and process or blend until nearly smooth. Place chicken in a plastic bag set in a shallow dish. Add orange mixture; turn to coat both sides. Close bag. Chill for 2 to 24 hours.
Meanwhile, for salsa, peel and section grapefruits and oranges over a small bowl to catch juices. Discard seeds; coarsely chop citrus. Add citrus, chutney and onion to juices in bowl. Cover and chill for up to 2 hours.
Remove chicken from marinade; reserve marinade. Place chicken on the unheated rack of a broiler pan. Broil 4 inches from heat for 5 minutes. Turn and brush with reserved marinade; discard remaining marinade. Broil 7 to 10 minutes more, or until chicken is tender and no pink remains. Serve chicken with salsa.
Serves 6