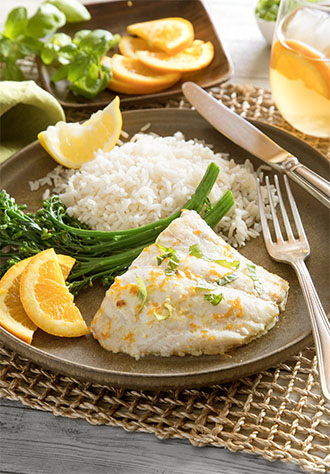 Red Snapper Baked in Orange Juice
What's cooking
Red snapper is easy to prepare, tasty and just as local as our oranges. To make a mouthwateringly healthy meal, try baking it in Florida's Natural® Orange Juice.
Ingredients
2 pounds of red snapper steaks
1/4 cup Florida's Natural® Orange Juice
1 teaspoon orange zest
2 tablespoons melted butter
2 tablespoons freshly chopped basil
Salt and pepper to taste
Instructions
Place red snapper steaks in a single layer in a well-greased baking pan.
Combine orange juice and remaining ingredients and pour over fish.
Bake in 350° F oven for 30-40 minutes, or until fish flakes easily when tested with a fork.
Garnish a serving plate with orange slices and sprinkle chopped basil over snapper. Serve with rice.
Serves 4