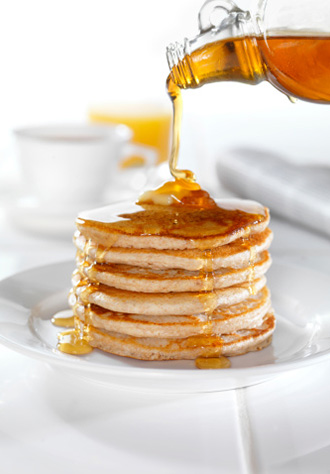 Orange Pancakes
What's cooking
We believe this is the most tropical stack you'll ever sink a fork into. Each orange pancake is like a big round sun, with happy rays of citrus sauce.
Pancake Ingredients
2 cups biscuit mix
1 cup Florida's Natural® Orange Juice
2 eggs
Tropical Citrus Sauce Ingredients
1/4 cup sugar
1 tablespoon cornstarch
1 & 1/4 cups Florida's Natural® Orange Juice
2 teaspoons butter or margarine
One 8-ounce can pineapple tidbits, drained
1 medium banana, sliced
Instructions
In a small saucepan, combine sugar and cornstarch.
Stir in orange juice.
Cook and stir over medium heat until thick and bubbly, then stir for 2 more minutes.
Remove from heat.
Stir in margarine and pineapple.
Stir in banana while sauce is warm, and pour over pancakes.
Serves 6