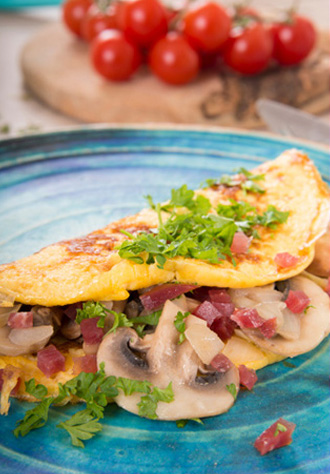 Fresh Start Power Omelet
What's cooking
It's a fact: A breakfast that's rich in protein, whole grains, fruits, and vegetables can get your mind and body ready for a busy day. Maximize the brainpower value of this omelet by serving it with a piece of whole-wheat toast and a glass of Florida's Natural® Orange Juice.
Ingredients
2 slices turkey bacon, chopped (or 1/4 cup diced lean ham)
4 large eggs
2 tablespoons Florida's Natural® Orange Juice
1/4 cup chopped fresh spinach
1/4 cup diced red bell pepper
1 ounce shredded low-fat cheddar cheese
Salt and pepper to taste
Instructions
Cook turkey bacon in skillet; add spinach and red bell pepper and sauté for 1 minute.
Combine eggs and orange juice, mix until smooth, and then add to skillet.
Cover and cook on low until omelet is firm.
Sprinkle cheese on omelet, gently fold omelet in half and cook for an additional 30 seconds to melt cheese.
Serves 2