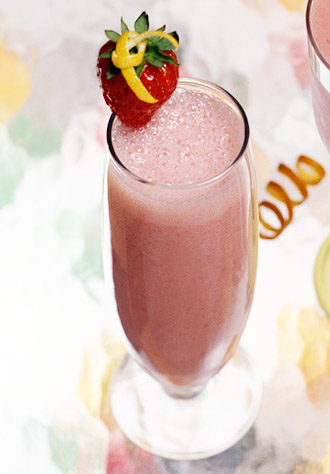 Strawberry Lemon Yogurt Refresher
What we're mixing up
Nothing's more refreshing than this drinkable fruit blend. Except maybe a sudden rain shower out in the groves.
Ingredients
1 cup smooth low-fat yogurt
1/2 cup Florida's Natural® Orange Juice
1/2 cup crushed ice
1 & 1/2 cups fresh strawberries or frozen unsweetened strawberries, defrosted
1/2 teaspoon grated lemon peel
1 tablespoon lemon juice
1 to 2 tablespoons sugar
Instructions
In a blender or food processor, blend yogurt, orange juice, ice, strawberries, lemon peel and lemon juice until smooth.
Add sugar to taste, then blend again.
Serve within 3 hours.
Shake well before serving.
Serves 3-4