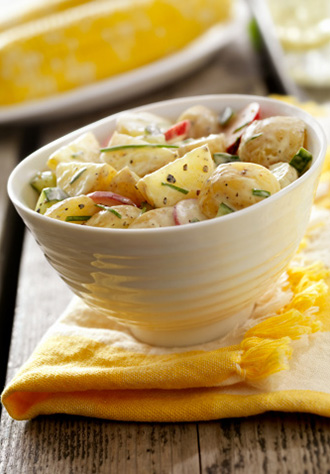 Citrus-Basil Potato Salad
What's cooking
This is a fresh, light twist on the classic potato salad. For a little variety, try using different veggies like asparagus, peas, cucumbers or yellow squash.
Salad Ingredients
1 & 1/2 pounds red potatoes
1 green bell pepper, diced
1 cup cooked corn
1 cup cherry tomatoes, halved
1/4 cup red onion, minced
Dressing Ingredients
1 tablespoon fresh basil, chopped
2 tablespoons olive oil
1/3 cup Florida's Natural® Orange Juice
1/4 cup red wine or balsamic vinegar
Salt and pepper to taste
Instructions
Place potatoes in a large pot and cover with water.
Bring to a boil, reduce heat and simmer for 10 minutes, or until tender.
Let the potatoes cool, then cut into 1/2-inch cubes.
Combine the potatoes with the green pepper, corn, tomatoes and onion.
In a separate bowl, whisk together basil, oil, Florida's Natural® Orange Juice and wine or vinegar.
Pour dressing over potato salad and gently mix together. Serve at room temperature or slightly chilled.