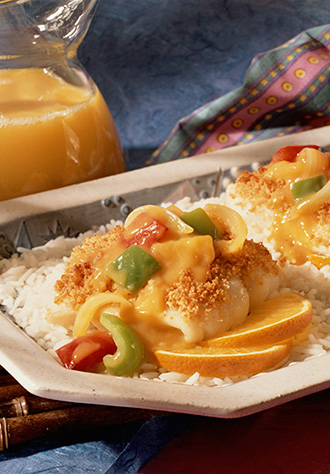 Sweet and Sour Fish
What's cooking
This is one of our favorite ways to dress up fish (and it's a lot easier than catching them in the first place). Taste this Florida favorite tonight.
Ingredients
1 & 1/2 pounds fresh or frozen orange roughy, cod or haddock fillets, about 3/4 inch thick
2/3 cup fine dry bread crumbs
1/2 teaspoon paprika
2 tablespoons margarine or butter, melted
1 egg beaten with 1 tablespoon water
1 medium onion, cut into thin wedges
1 medium red and/or green bell pepper, cut into 3/4-inch squares
3/4 cup orange juice reduction*
4 tablespoons cornstarch
1 tablespoon hoisin sauce
1 tablespoon soy sauce
1 8-ounce can pineapple tidbits (juice-packed)
3 cups hot cooked rice
Orange slices, halved (optional)
Instructions
*In a small pan, bring 1 & 1/2 cups of Florida's Natural® Orange Juice to a boil; reduce heat and simmer until half the liquid—3/4 cup—remains. Let cool.
Thaw fish, if frozen. Cut fish into 6 portions. Place fish on a baking sheet, tucking under any thin edges.
For coating: In a small bowl, stir together bread crumbs and paprika; add margarine and toss to coat. Brush fish with egg product and sprinkle with crumb mixture, pressing mixture lightly onto fish. Bake in a 450° F oven for 9 to 11 minutes, or until golden and fish flakes when tested with a fork.
For sauce: In a medium covered saucepan, cook onion and bell pepper in 1/2 cup water for about 5 minutes, or until vegetables are just tender. Do not drain vegetables.
In a small bowl, combine orange juice reduction, cornstarch, hoisin sauce and soy sauce. Add to saucepan mixture along with undrained pineapple. Cook and stir over medium heat until mixture is thickened and bubbly. Cook and stir for 2 minutes more. Spoon sauce over fish and rice. If desired, garnish with orange slices.
Serves 6