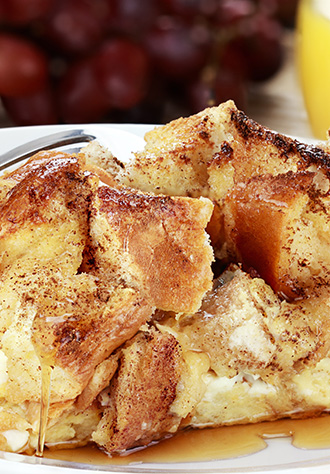 Oven-Baked French Toast with Orange Apple Syrup
What's cooking
We love autumn weekend mornings. Although we may not have fiery fall colors like our friends up North, this recipe takes us there.
French Toast Ingredients
2 eggs
1/2 cup Florida's Natural® Orange Juice
1/4 cup milk
1 teaspoon vanilla extract
1/4 teaspoon cinnamon
1/4 teaspoon nutmeg
8 French bread slices, cut 1-inch thick
1/4 cup melted butter
Orange Apple Syrup Ingredients
3/4 cup Florida's Natural® Orange Juice
1/4 cup brown sugar
1 medium apple, cored and thinly sliced
1/2 teaspoon cinnamon
1/4 teaspoon ginger
1 orange, peeled and cut into sections
Instructions
In a medium bowl, whisk together all French toast ingredients except French bread and butter. Dip both sides of French bread in mixture and place in a buttered 13x9-inch baking dish; pour remaining mixture over bread. Refrigerate overnight or bake. Before baking, drizzle melted butter over French bread. Bake at 400º F for about 20 minutes, or until golden-brown.
Meanwhile, in a large skillet, combine 3/4 cup orange juice and brown sugar; cook over medium heat, stirring occasionally, until mixture is bubbly. Add apples, 1/2 teaspoon cinnamon and ginger. Continue cooking until apples are tender; add orange sections.
Serve over French toast.